SERVICES
Our philosophy is to provide a complete service to clients, in order to simplify the diversification of suppliers. We have a fleet of trucks ensures prompt delivery and best suit your needs and requirements.
________________________________________________________
Containers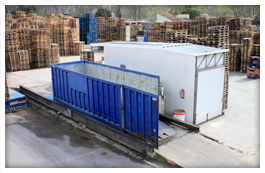 In cases where waste wood pallets can not be transported on a truck platform, it is possible to have containers 40 m3.
The container has many advantages: The seguretat, i la imatge hygiene. The installation·lacions remain netes, they do not see any residue and requires no manipulation. Once the container is full it switches to another vacuum. And, tant per, a speedy trial.
________________________________________________________
Pallet Recoll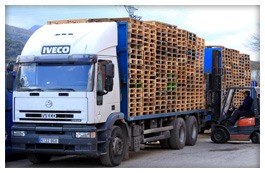 We have a collection service with conventional transport pallets, platforms or amb amb contenidors. Our trucks are authorized by the Catalan Waste with the code carrier T-1874.
Once downloaded, the pallets at our·Facilities, are chosen and classified considering three main criteria:
 
 
Shuffleboard in good estat. They can be sold again without having to make any further operation.
Palets trencats. You have to shop for a recycling operation. Our repair or replace defective parts broken achieved and give new life to the pallet.
I de fora irreparable pallets measure. Go to a chain of dismantling to separate recoverable elements that can be used to manufacture pallets of items that no longer have any other possible use a pallet. These boards can not be nailed also take advantage, as they go through a grinding process.
________________________________________________________
Trituració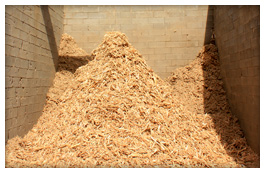 According to our philosophy of environmental protection, when the pieces of wood can no longer be used to manufacture pallets, the triturem. The crushed wood is used for both the manufacture of chipboard and for power generation.